ENVIRONMENTAL GRAPHICS' KEY BENEFITS IN THE WORK PLACE!!!
What effect do visuals in the work environment have? It's helpful to first grasp what environmental graphics design is in order to have a handle on the solution to this issue. Designers in the field of environmental graphic design bring together a variety of design components in order to create a cohesive whole. It's all about making people feel like they're part of something bigger than themselves.
Architecture, graphic design, interior design, and landscape all play a role in creating a unique experience. It is possible to use these designs for a broad range of objectives, from helping a customer find their way to educating them about your company's offerings. At the same time as they provide these functions, they are also optimizing design components to produce a distinctive look that is memorable.
You may change the look and feel of your workplace by using environmental graphics. If you do this, your employees and customers will notice a marked improvement.
For a comprehensive list of the many advantages that environmental graphics may provide your company, read on or visit us as the sign company Dundee you are looking for.
TELL THEM EXACTLY WHAT TO DO.
Wayfinding is a typical use for environmental graphics in the workplace. To help individuals find their way and identify specific locations, this system makes use of eye-catching images rather than generic signage.
If you have a big facility with several levels or work areas, this is a helpful tool. It's particularly helpful if you have a lot of visitors that need to identify various service providers in your area.
Boldly created visual signage should take the role of text-only signs in areas such as restrooms, escalators, and offices. It's possible to hang images from the ceiling, stick them to the walls, or even place arrows on the floor to help people find their way about.
Make your business more contemporary and easy to find signs by updating the aesthetic of your office with this new design. Customers will no longer need to ask for instructions, which will have a direct influence on the productivity of employees.
Workplace safety may be improved with the use of such images. People are less likely to stray into locations they aren't supposed to be there if there is clear and prominent notice.
BE COMMITTED TO BUILDING YOUR BRAND
The more people know about your brand, the more likely you are to be recognized in the community. Your brand awareness will grow if you are consistent across all channels, from social media to your website to your business signs. More than 80% of your company's awareness may be boosted by simple things like using the same brand colors consistently.
Clients that come to your location may benefit from the use of environmental graphics by building your company's brand. You may put them on display in the windows of your business to catch the eye of passersby.
Putting your company's name all over the place isn't enough. If you're going for a certain look and feel, the visuals should reflect that. Your company's goal is to be viewed as forward-thinking, so you'll want a sleek and contemporary look for your signage.
SHAPE THE HISTORY OF YOUR ENTITY
In addition to promoting your company's image, you should also communicate your core principles to your target audience. Customers are more inclined to buy from a firm if they feel like they have something in common with it.
Using visual design to communicate your company's values also serves as a reminder to your staff of the standards you want them to meet on a daily basis. As a result, employees are more likely to foster a sense of camaraderie and cohesiveness around the organization's basic principles.
Visuals and words may be used to express these ideas. A comprehensive concept may be conveyed with just a few words or phrases combined with visuals.
When you illustrate your company's history via images, you're promoting a feeling of community and pride. Showing where your firm has come from and where it wants to go helps motivate businesses to strive toward further expansion and vice versa.
GET THE MOST FROM YOUR ROOM
A delicate balancing act is frequently required to achieve the optimum work atmosphere. Privacy is frequently needed by workers to avoid distractions and secure sensitive information. Although this is the case, they may still prefer to stay linked to the rest of the workplace or the rest of the wider outside world.
With huge glass windows or walls in your workplace, graphics may help you establish the right balance. You may use the visuals to enhance the visual interest and to create the appearance of solitude. To top it all off, it's still open enough for workers to mingle and form healthy working relationships.
IMPROVE WORKPLACE EMOTIONS
The use of graphics in the workplace may improve morale and morale in the workplace. Your workers are more likely to look forward to going to work if they are greeted each day with eye-catching images.
Having contented workers isn't the only way to maintain strong morale. By keeping their staff happy and engaged, companies may increase their profits by 21 percent.
Your workers are more likely to put forth their best effort for you if they are happy at work. Encouraging your staff to broaden their thinking and challenge their attitudes by bringing a creative flair to the workspace may also help them achieve greater success at work.
Strategically selecting the designs might encourage your staff to be more innovative and attempt new things. Innovative solutions to the problems your workers experience on a daily basis might be aided by this.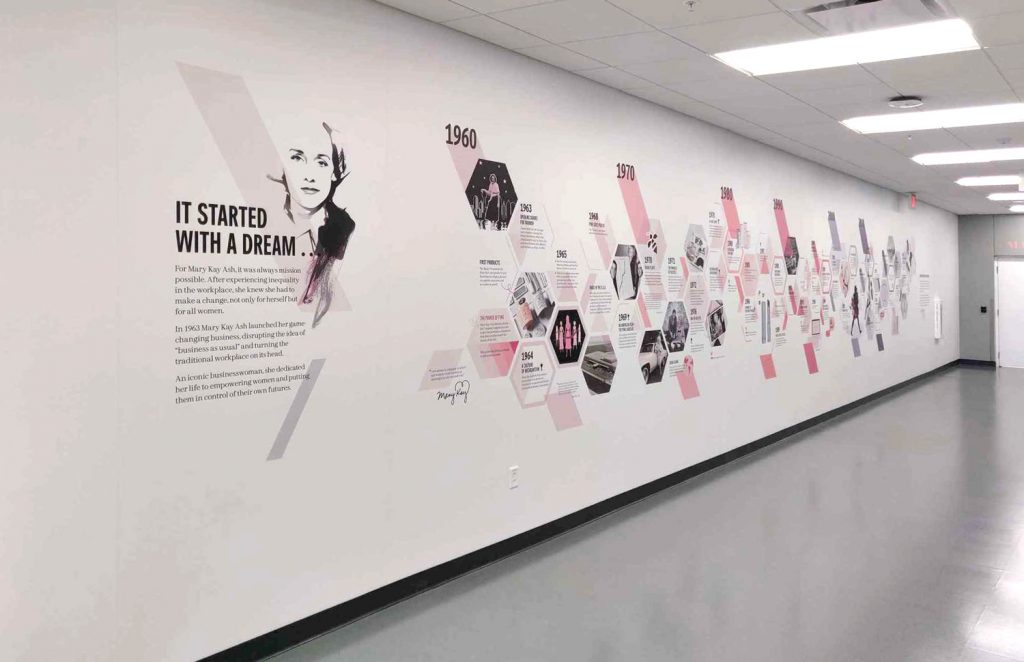 WHY WAIT ANY LONGER? CONTACT US TODAY!
Investing in environmental graphics is a wise decision when you consider the advantages they provide. You wouldn't want to leave your house with bare walls, so why would you want to do the same with your office?
Choose from our wide range of goods and services to find the ideal method to include environmental graphics in your business. And, that's not the only service that makes us the manufactures of graphic signs in Dundee. Come see us and find yourself.Scotland Sign Company Web Designer